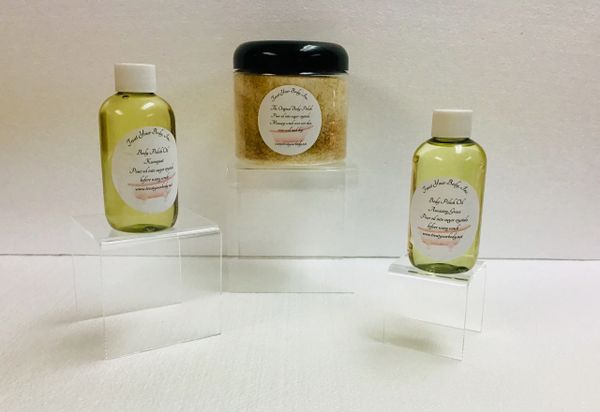 Body Polish - A luxurious sugar that provides an effective scrub without aggressing skin, buffing away dead skin cells to leave the body with an incredibly soft feel. Remove dead skin cells that make the skin look dull and lack luster, for extremely soft skin after just one use.  Vitamin E - Promotes stability of the cells and smoothes and strengthens the skin. Also has moisturizing properties.
Net Weight 16 oz 

Directions: Scoop out a small amount of sugar scrub into bare hands or bath gloves. -Massage into wet skin using circular motions. -Pay special attention to elbows, knees, and heels. -Rinse with warm water.

Paraben Free
No Sulfates
No Mineral Oil
No synthetic colors
No Alcohol
100% Cruelty Free 

Hawaiian Raw Sugar Cane and Organic Sugar - Real brown sugar crystals which is a natural humectant that prevents moisture loss while gently buffing away dry skin cells. It is also a natural antiseptic to help heal minor skin scraps.
Prepare Your Scrub: Our Body Polish comes in two separate containers. Before you use your body polish take the bottle of oil and pour into the jar of crystals. You can poor the entire bottle of oil or you can poor a small amount each time before using.